Finding Top Florida Medical Marijuana Doctors
The medical marijuana industry has seen a boom in the last few years. Every year, more and more people seek out to get a medical marijuana card. Some may want a card to help with pain relief as medical marijuana is known to help manage chronic pain caused by conditions like arthritis, fibromyalgia, and neuropathy. Many seek medical marijuana to help treat anxiety and depression which are among the most common mental health conditions. Those who suffer from insomnia are able to fall asleep faster and stay asleep longer with medical marijuana. These are just a few of an endless list of reasons why someone might want to get a medical marijuana card.
Starting to get a medical marijuana card may feel daunting. Each state has different rules and processes, with every medical marijuana doctor telling you different things. If you're looking to get a medical marijuana card in Florida, one of the most important decisions you'll make is choosing the right doctor. The process can be overwhelming, but finding a qualified and compassionate medical professional who can guide you through the process is essential. That's why MMJ Health, the leading medical marijuana doctor in Florida, create this guide to help you find the top medical marijuana doctors in Florida.
1. Research online
The first step in finding a qualified medical marijuana doctor is to research online. Check out websites like Yelp, Google, and Healthgrades to find reviews and ratings for local doctors. Make sure to read the comments and look for reviews from patients who have received a medical marijuana card from the doctor. Each doctor's office will have their own pros and cons and one of the best ways to understand them is to read reviews from patients that have already gone through the process. MMJ Health takes every review seriously and believes in improving every step of our process. Please check out our patient testimonials to see how MMJ health has changed these patient's life.
You can also check out the websites of medical marijuana clinics in Florida to learn more about the doctors on staff. Look for doctors who have experience treating patients with conditions that are eligible for medical marijuana in Florida.
2. Check the doctor's certifications
Once you've identified some potential medical marijuana doctors, make sure to check their certifications. In Florida, doctors must complete a course on medical marijuana and be certified by the state's Department of Health to recommend medical marijuana to patients.
You can verify a doctor's certification status on the Florida Department of Health's Medical Marijuana Use Registry. Simply enter the doctor's name and license number to confirm that they are qualified to recommend medical marijuana to patients.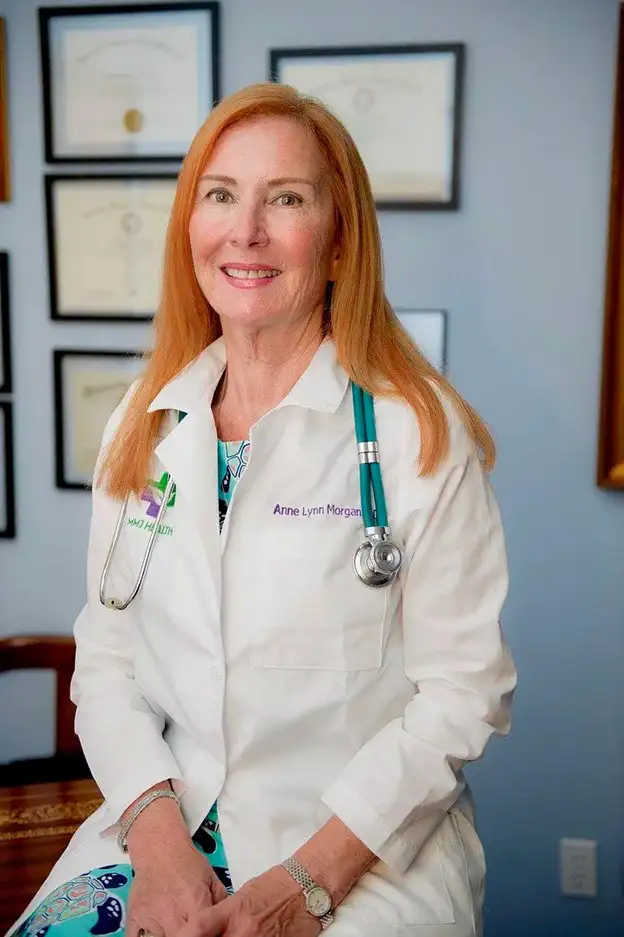 Dr. Anne Morgan is MMJ Health's chief medical officer and is a highly qualified physician with extensive experience in medical marijuana medicine. She is licensed to practice in Florida, Washington, and Pennsylvania, and is double certified in Medical Marijuana Medicine by the Society of Cannabis Clinicians and the American Academy of Cannabis Medicine, where she serves on the board of directors.
3. Consider the doctor's experience
It's important to choose a medical marijuana doctor with experience treating patients with your specific condition. Look for doctors who have a track record of success in treating patients with medical marijuana.
You can also consider the doctor's background and education. Doctors with experience in fields like pain management, oncology, and neurology may be more knowledgeable about the benefits of medical marijuana for certain conditions.
With over 32 years of experience as a Diplomate of the American Academy of Family Physicians, Dr. Morgan has served as Medical Director for major healthcare providers such as United Health, Humana, and Metropolitan Health. She is also an expert in the field of medical marijuana medicine and has studied the Endocannabinoid System (ECS) extensively, becoming a member of the International Cannabinoid Research Society.


4. Look for compassionate care
When choosing a medical marijuana doctor, it's important to find someone who is compassionate and supportive. Medical marijuana can be a sensitive and emotional topic, and having a doctor who understands and cares about your needs can make the process much easier.
Look for doctors who take the time to listen to your concerns and answer your questions thoroughly. A compassionate doctor can make a big difference in your experience with medical marijuana.
With a deep understanding of the different routes, dosages, frequencies, and types of medical marijuana, Dr. Morgan is able to effectively treat her patients and help them regain their quality of life. Her commitment to patient care and her exceptional qualifications make her one of the top medical marijuana doctors in Florida.
5. Consider the location and accessibility
Finally, consider the location and accessibility of the medical marijuana doctor's office. Look for a doctor who is conveniently located and has office hours that work with your schedule.
You may also want to consider factors like the availability of parking, the comfort of the waiting room, and the friendliness of the staff. A comfortable and welcoming environment can help ease any anxiety or nervousness you may feel about the process.
MMJ Health has 9 locations conveniently located in South Florida. Each location is staffed with friendly, knowledgeable team members, dedicated to helping patients in Florida seeking health benefits that medical marijuana can offer.
Conclusion
Finding the right medical marijuana doctor in Florida can be a daunting task, but by following these tips, you can ensure that you find a qualified and compassionate doctor who can guide you through the process. Remember to research online, check the doctor's certifications, consider their experience, look for compassionate care, and consider the location and accessibility of their office. With the right doctor, you can get the help you need to manage your medical condition with medical marijuana.
At MMJ Health, we understand that finding the right medical marijuana doctor can be overwhelming. That's why we strive to make the process as easy and seamless as possible for our patients. Our team of highly qualified doctors, including Dr. Anne Morgan, are experts in the field of Medical Marijuana Medicine and are dedicated to providing personalized treatment plans tailored to each patient's unique needs. We offer convenient online appointments, accept a variety of payment options, and provide ongoing support and guidance to ensure our patients achieve optimal health outcomes. If you're looking for the best medical marijuana care in Florida, look no further than MMJ Health. Contact us today to schedule your appointment and take the first step towards a healthier, happier you.