West Palm Beach, FL Medical Marijuana Doctor
If you are looking for a medical marijuana doctor in West Palm Beach, look no further! MMJ Health is the leading medical marijuana doctor with an office right in the heart of West Palm Beach. Our compassionate doctors and knowledgeable staff can get you a Florida medical marijuana card with a seamless, done-for-you process.
For premium service from a West Palm Beach marijuana doctor, contact us today!
Want to talk to an MMJ doctor in West Palm Beach right away?
CALL NOW: (561) 631-7993
Directions
Not sure how to find our certified marijuana doctors in West Palm Beach? We recommend the following route:
Follow I-95 N to West Palm Beach
Use the right 2 lanes to take exit 70 for FL-704 W / Okeechobee Blvd (0.2mi)
Use any lane to turn left onto FL-704 W / Okeechobee Blvd (1.4 mi)
Use the left turning lane to turn left onto Seminola Blvd (0.1mi)
Destination will be on your right, attached to the Sunnyside Dispensary. We are located next to Cumberland Farms Gas Station.
Frequently Asked Questions
Want to learn more about getting your medical marijuana card? Our cannabis doctors have answered some of the most common questions they're asked on the job.
Where Can I Get a Medical Marijuana Card in West Palm Beach, FL?
The best place to get a medical marijuana card in West Palm Beach is MMJ Health. We're the only all-inclusive medical marijuana card company in the state. Our certified marijuana doctors in West Palm Beach make the process simple, so you can get in, get out and wait for your card. You won't have to worry about running around town to multiple locations or filling out confusing applications — our West Palm Beach MMJ doctors have it covered.
How Long Does it Take to Get a Medical Marijuana Card in West Palm Beach?
When you visit a West Palm Beach MMJ doctor, you'll submit your application for a medical marijuana ID card. Within 4 to 6 weeks, you'll receive an email from the state letting you know if your application was approved. If you were approved, the e-mail from the state will serve as your temporary ID card. It can be used to purchase medical marijuana from any dispensary in Florida. Within 2 weeks after receiving that email, you'll get your physical card in the mail.
How Much Does a Medical Marijuana Card Cost in West Palm Beach?
When you meet with a marijuana doctor at MMJ Health, your initial visit costs only $249. This new patient package covers everything you need to get qualified for medical marijuana in one visit. You'll get the following:
Medical Marijuana Qualification
Medical Marijuana Certification
Patient ID number – Physical
Review of Medical History
Input into the Florida Patient Registry
Medical Records Requests
Customized Treatment Plan
Smokeable / Flower Certification
Input of Orders
Assistance with Forms
Passport Style Photo for ID Card
Visit a Medical Marijuana Doctor in Our West Palm Beach Office
If you're looking for a marijuana doctor near you, our West Palm Beach MMJ Health office has you covered. Make an appointment with our certified marijuana doctors to get your medical marijuana card and the treatment you need today!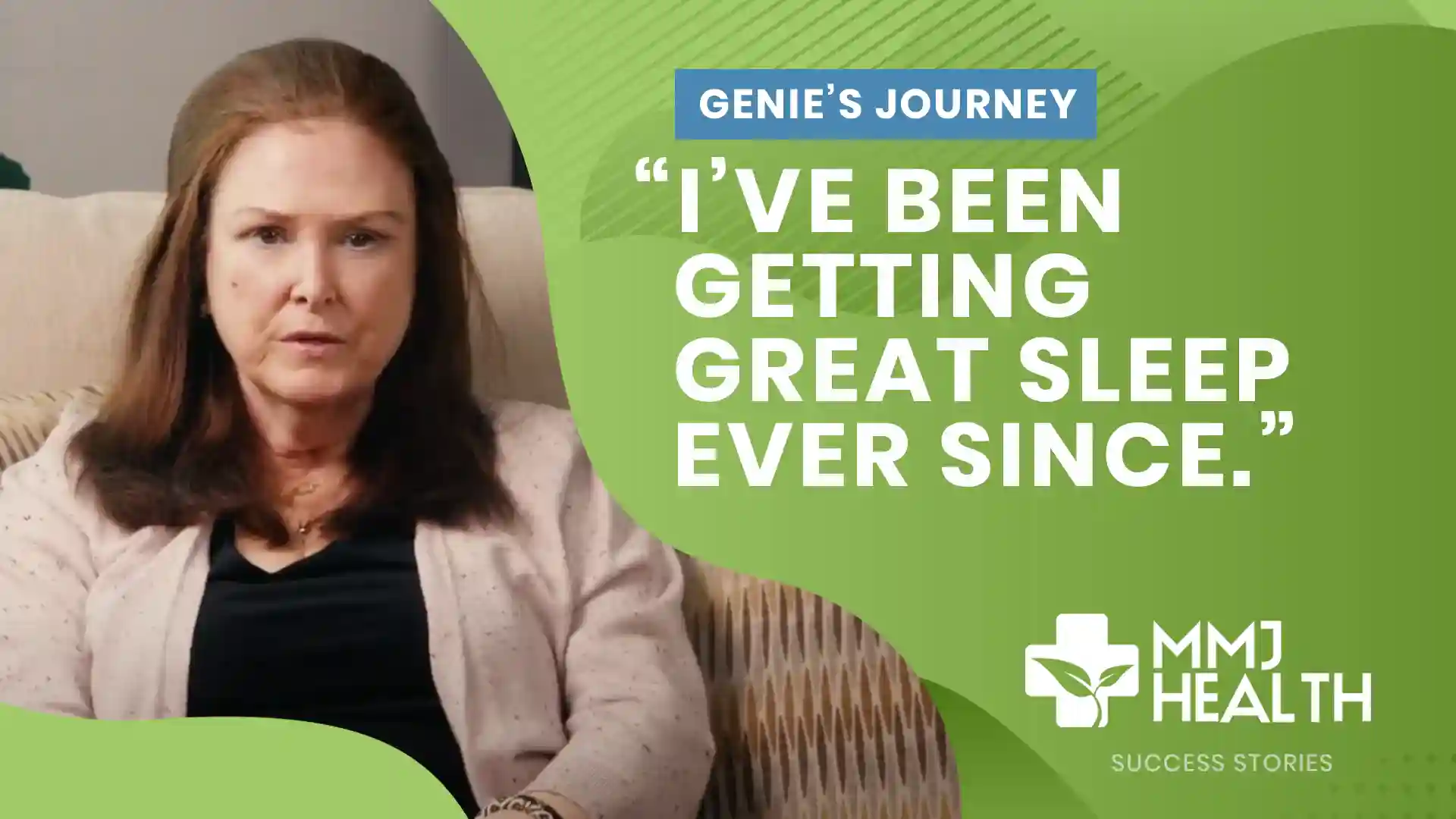 I'VE BEEN GETTING GREAT SLEEP EVER SINCE.

: Genie's been a patient at MMJ Health, Florida for three years now. She was suffering from insomnia and soon after starting a medical cannabis treatment, she was able to enjoy a good night's sleep every night.