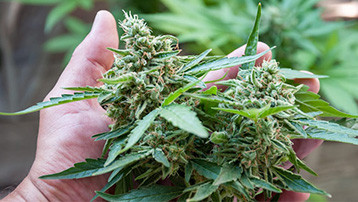 When Did Humans Domesticate Cannabis?
The past few years have seen a great increase in the popularity of cannabis across the US. States have been legalizing medical and recreational use in pursuit of benefits from its multi-million-dollar revenues. While everyone is enjoying the consumption of this plant, there aren't many who ponder upon its domestication.
For this very reason, we have dedicated this article to highlighting when and how cannabis was domesticated and how different societies utilized it both medicinally and recreationally.
The Past
Although there is no written evidence of when exactly cannabis was first discovered or cultivated on purpose, experts are certain that the plant dates a couple of thousand years ago. Traces of the plant have been found in Asia at several archeological sites.
Some of the earliest text about the plant is found in ancient Hindu text, whereas traces of hemp fiber were also spotted in Taiwan at a 10,000-year-old burial site.
Such findings have led experts to believe that cannabis has been around for quite a while; what we enjoy today is merely the tip of an iceberg – there is a lot to learn.
The Origin
Cannabis has been around for ages, but it came to the limelight when people started its agricultural domestication. Research suggests that domestication of this plant began somewhere around 12,000 years ago in China. The study focuses on determining where the domestication of this plant began and how people initially used it.
Experts suggest that identifying how and why older societies benefited from this plant could prove helpful today; it would allow us to maximize the medicinal value of this plant and eradicate potential hazards if any.
Luca Fumagalli is the biologist who led the study. He concluded that back in the early days, cannabis was a multipurpose plant that was not only used for medicinal and recreational purposes but was also exploited in fiber.
Fumagalli's study also highlights the genetically distinct categories of the plant. According to the study, initially, there were two groups for drugs: one primordial group, and a hemp group. This ancestral gene pool is currently represented by the landraces as well as the feral plants in China.
Investigators from six countries, including Pakistan, China, India, Britain, Qatar, and Switzerland, took part in the research to identify the origins of cannabis. The researchers analyzed the genomic data of 110 plants, including modern hybrids, feral plants, landrace strains, and historical cultivars.
The Cannabis Footprint
Researchers from around the world haven't been able to trace back the ancestors of modern cannabis. Experts believe that the earlier members of the modern strains might have gone extinct unless proven otherwise.
However, some cannabis families found in the northwestern parts of China have been associated with a few contemporary strain families. One of such ancestors was Basal cannabis, which may be the ancestor of certain cannabis plants domesticated back in the day.
The study also revealed that several branches in hemp strains had seen genetic mutations due to selective breeding over the years. The taller and more fibrous stem structures of the modern hemp plants may have been a result of selective breeding over a few thousand years.
Similarly, cannabis cultivars also saw genetic mutations over the years due to domestication for drug production. This caused these plants to become shorter and bushier, in addition to increasing their resin production.
In Conclusion
Initially, people thought that since cannabis grows wildly in the central Asian region, that must be where the plant originated from. Inadequate information about the origins of this plant hinders a proper understanding of cannabis's capabilities. Fumagalli's study highlighted in this article takes a step to determine the history of cannabis with verifiable science. However, a lot more research is required before we get to understand the heritage of cannabis fully.
Medical Marijuana Doctors Near Me
Did you know that people in this state require a Florida medical marijuana card for purchasing cannabis? Our expert Florida medical marijuana doctors at MMJ Health can help you get yours today. Make an appointment for a consultation, or click here to complete the survey to see if you qualify for a medical marijuana card in Florida.