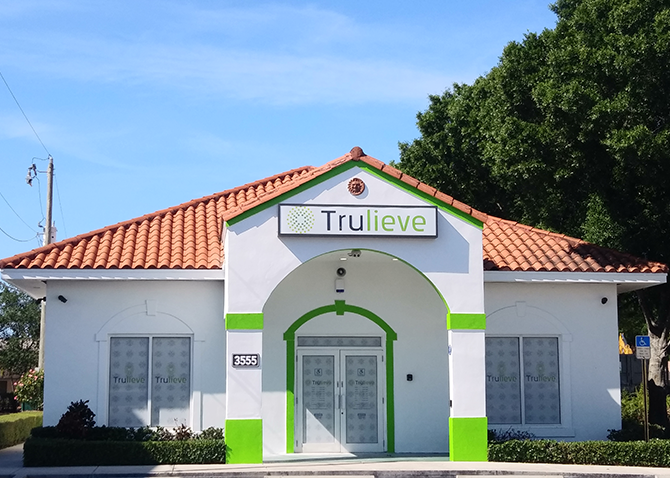 Trulieve Palm Beach Gardens Now Open
Trulieve Palm Beach Gardens is now open! Here at MMJ Health, we celebrated 4/20 by visiting the official opening of the new dispensary location! Located in Palm Beach County, Florida and only 77 miles north of downtown Miami, the new Trulieve location's opening was the perfect way to celebrate everyone's favorite holiday.
Who is Trulieve?
Trulieve dispensaries strive to bring you the relief you need in a product you can trust. As one of Florida's trusted medical cannabis providers you can rest assured their products combine the strength of medical marijuana with the established quality, consistency and strains available only from a state licensed medical marijuana dispensary. Trulieve specializes in growing all natural, potent medical cannabis that brings relief in a variety of forms – including tinctures, vape pens, concentrates, topicals, capsules, dried flower, and edibles while delivering them directly to patients who have qualified through Florida's Compassionate Use Registry.

Trulieve cannabis plants are hand-grown in an environment specially designed to reduce unwanted chemicals and pests, keeping the process as natural as possible at every turn. Trulieve Palm Beach Gardens has officially opened their new location for those who live in Florida and are looking to benefit from medical cannabis.
How does it work?
We know that when starting a medical cannabis treatment, there are a lot of questions about your safety and health. If you're new to medical cannabis, at MMJ Health we'll help you get everything in order so you can visit Trulieve Palm Beach Gardens!

Just follow these easy steps:
Schedule an appointment with one of our preferred physicians to see if you qualify for medical marijuana treatment.

Once you're qualified, you'll need to apply for your medical marijuana use identification card through the Office of Medical Marijuana Use.

Visit the newest Trulieve location in Palm Beach Gardens, or call their knowledgeable and helpful staff at 844.TRULIEV. Your order will be fulfilled based on your dosage information from your physician. All you will need to verify your full name and date of birth is your ID, as well as your state-issued MMJ Card or present an approval email from the Office of Medical Marijuana Use.
Get Started Today
After taking the proper steps for qualification to become a medical marijuana patient, there are several Trulieve locations that would be happy to assist you. Whether you're suffering from chronic pain or just want a healthy alternative to conventional medication, there's always a way Trulieve can help. From local laws, to dosage recommendations or medical research on cannabis use, Trulieve can help answer these questions on their website or you can speak with one of their patient consultants as well as inquiring with your doctor at MMJ Health.If you've ever found yourself wondering, "Is there a Trulieve near me?" There's no need to wonder anymore! There are currently several Trulieve dispensaries located in Florida, California, Connecticut, Massachusetts, and Pennsylvania. For medical marijuana patients in Florida, you may now visit a Trulieve near you! At the Trulieve new location in Palm Beach Gardens, you can now schedule your virtual consultation and get answers to your cannabis questions right away.
Get started today by visiting the Trulieve website or by filling out our simple patient qualification survey at MMJ Health for help with all your medical cannabis questions and needs!