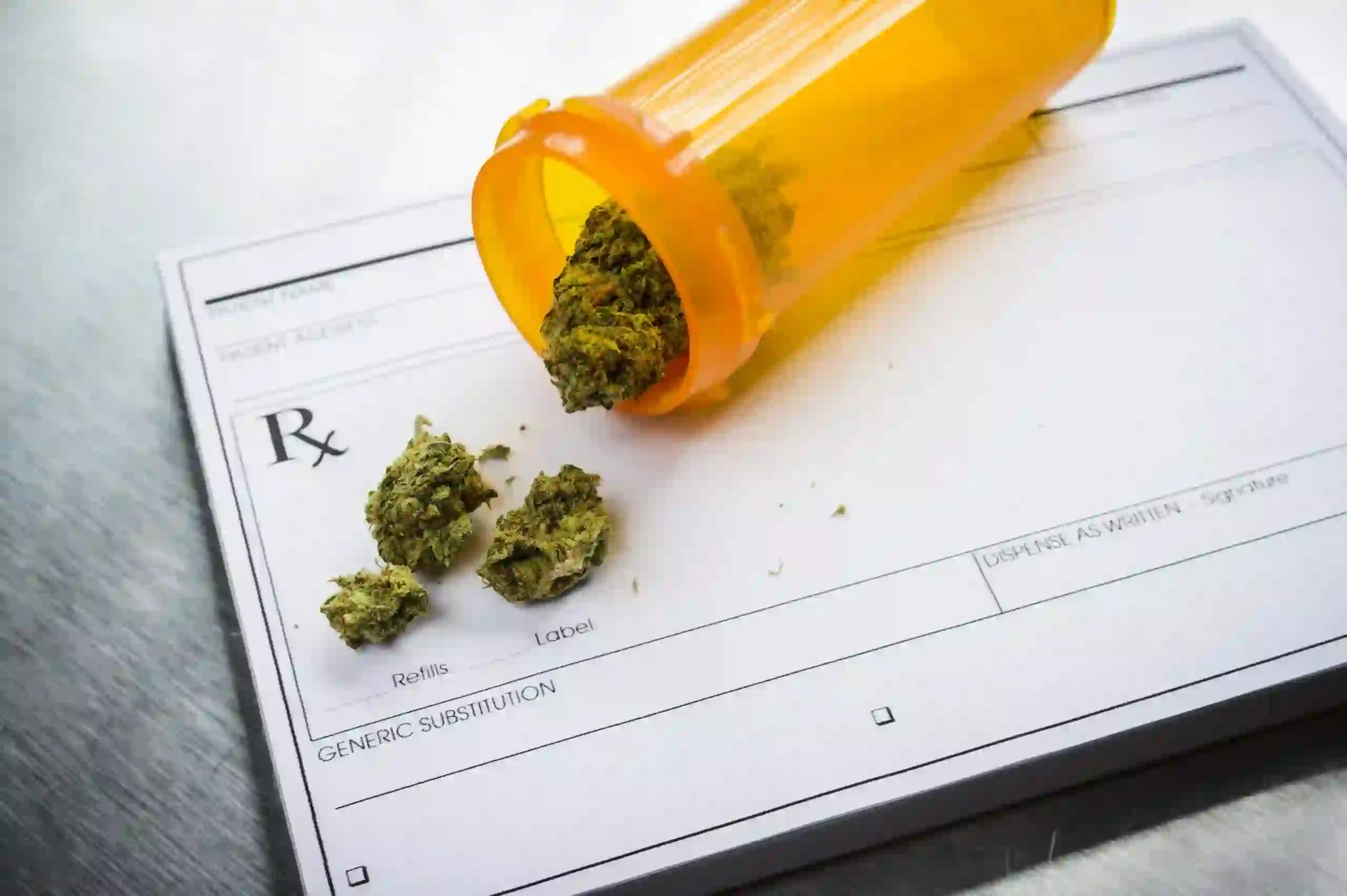 Medical Marijuana Can Help & Harm Those Infected with COVID-19
Ever since March of 2020, when the coronavirus hit our nation—and many others!—hard, folks have been researching alternative medical treatments religiously to see if anything could possibly help. 
"While it's proven that cannabis can be effective in treating things like cancer, epilepsy, multiple sclerosis, chronic pain, as well as making watching the Cats movie more bearable, researchers are toying with another use for the Devil's lettuce: defeating COVID-19."                                                                                                                                                                                                                                                               —Jerilyn Jordan 
There has been a spike in interest when it comes to fostering a healthy lifestyle, and many have developed a new level of trust in various holistic ways of healing themselves from a myriad of ailments. 
This has naturally led to a deep curiosity surrounding marijuana: People are wondering if it can actually decrease symptoms of COVID-19. 
The short answer is yes: Cannabis can sometimes reduce certain symptoms of the coronavirus, but it significantly depends on the strain and the dosage. It also has the potential to do a bit too much damage to your already compromised immune system. 
If you are considering this treatment option, please speak with a qualified doctor in the field to guide you before you begin consuming cannabis. 
The problem is that marijuana can be particularly problematic when it comes to decreasing symptoms in someone infected with the coronavirus, yet it can also treat cytokine storms, which are a major issue for people suffering from COVID-19. 
"Most of the new evidence points to CBD or terpenes from cannabis as a treatment for cytokine storms – the dangerous over-elevation of cytokines and inflammation that has led to the deaths of many Covid-19 patients. But some research also suggests that general cannabis use might increase the risk for Covid-19 patients." 
                                                —Emily Earlenbaugh
In a word, it's complicated: It is correct to say that medical marijuana can impact people infected with COVID-19 negatively, yet it's also accurate to ascertain that a very specific treatment consisting of cannabis could actually help them. 
"Experts say that both lines of research could be pointing to the truth – with cannabis impacting patients differently depending on how it's used, and how severely they are infected with Covid-19." 
                                                                           —Emily Earlenbaugh
There are a number of factors to consider: 
Which strain are you using? 
How much marijuana are you consuming? 
How severe is your case of COVID-19? 
It's essential to work with a professional when it comes to trying these unconventional methods. 
In some cases, medical cannabis can significantly decrease symptoms and drastically lower your chances of getting the virus in the first place. In others, the reality is not so rosy. 
"According to biological scientist and the study's lead researcher, Dr. Igor Kovalchuk, some strains reduced virus receptors by 73% — in turn, dramatically lowering the chance of getting the virus at all."
                                                                                                           —Jerilyn Jordan
The efficacy of marijuana when it is used to treat COVID-19 is highly dependent on the strain. 
That being said, it's important to remember that this research is relatively recent, and the data is mixed, so it is certainly a risky route to healing from the coronavirus. Nonetheless, it could impact quite a few individuals positively. 
"The study will likely start clinical trials in the coming months by using inflammatory cell samples from COVID-19 patients. The scientists' hope is to decode cannabinoids' response when interacting with the virus — specifically, when crossing paths with a "cytokine storm," which happens when cytokine (an immune system protein) begins attacking the body's cells rather than the virus. The deadly phenomenon has been suspected to have taken place in fatal COVID cases." 
                                                                         —Jerilyn Jordan 
The issue is that marijuana can sometimes suppress an already compromised immune system and do damage to your lungs, which can make the symptoms of coronavirus even worse, but it can also help by attacking cytokine storms, so it's important to practice caution. 
5 FACTS ABOUT COVID-19 AND MARIJUANA
Marijuana and the coronavirus have a very complicated relationship with one another. 
1. MARIJUANA CAN DECREASE SYMPTOMS IN SOME CASES OF COVID-19 
Some; not all: The efficacy of marijuana is drastically dependent on the severity of the case at hand. 
2. SMOKING CANNABIS IS NOT THE BEST WAY TO TREAT THE CORONAVIRUS 
Smoking this substance can do damage to your lungs and make the condition even worse than it already is. 
3. THE STRAIN OF MARIJUANA IS INCREDIBLY IMPORTANT 
The efficacy of marijuana when it comes to treating COVID-19 is strongly dependent on the specific strain being used: Some are far more effective than others! 
4. A VERY SPECIFIC AMOUNT OF CANNABIS WILL SOMETIMES TREAT COVID-19 
When it comes to treating the coronavirus, we have to be very careful about providing the patient with just enough of the substance without giving them too much: Dosage is incredibly important. 
5. THERE ARE SIDE EFFECTS 
The reality of this treatment option is that research is recent, and there are quite a few risks involved: Marijuana can compromise a person's immune system, the dosage matters, the strain of marijuana is important, and cannabis can only decrease symptoms in some cases of COVID-19. 
Additionally, people often respond differently to this substance and the research pertaining to this particular subject is mixed. 
In a word, it's risky. If you are going to take this route, you will definitely need to consult a healthcare professional in the industry. 
5 MYTHS SURROUNDING MARIJUANA'S EFFICACY IN TREATING COVID-19
Unfortunately, as is often the case when it comes to marijuana news, the public has been hit with a slew of misinformation. There are many myths surrounding cannabis' efficacy in treating COVID-19.  
1. ANY STRAIN WILL ALLEVIATE SYMPTOMS OF COVID-19 
This is simply not the case: You absolutely must choose only the most appropriate ones to help you recover from your condition, and it truly is best to work with a professional.
2. THERE ARE ABSOLUTELY ZERO SIDE EFFECTS 
There is an enormous risk of side effects, especially with this specific disease, because cannabis can be harmful to the lungs and lead to a compromised immune system, which would make matters worse. 
3. SIMPLY SMOKING CANNABIS WILL MAKE YOU FEEL BETTER 
It won't: Smoking can wreak havoc on your lungs and actually make the condition worse. 
It's in your best interest to consume cannabis in other ways. 
4. YOU CAN HAVE AS MUCH MARIJUANA AS YOU WANT TO 
This is simply not true: You have to consume a very specific amount of cannabis for it to effectively treat the coronavirus, and, even then, the results can be incredibly unpredictable, and this treatment option is a high-risk one.  
5. CANNABIS CAN TREAT ANY LEVEL OF COVID-19 
The efficacy of medical marijuana when it comes to treating your condition will vary depending on the severity of the case you have. 
More research needs to be done before we can provide you with more thorough answers, but the short and long of it is that cannabis may not always be an effective treatment option for extremely severe cases of COVID-19. 
These results may seem troubling or confusing, but they are, in fact, quite promising, although we are still rather uncertain about the situation at hand. 
It can be extremely difficult to separate fact from fiction these days, what with the many news channels exaggerating certain facts to fit their narrative and increase ratings, a bunch of new research coming out with varying results, and the panic surrounding the worldwide pandemic that has ensued since this horrible disease hit.
Many have been scrambling for answers to no avail, but we are actually quite hopeful about these findings, although more studies still need to be done.
That being said, it's always best to remain cautious and only consume a specific dosage of a very particular strain of marijuana if you are considering it as a viable option for treating COVID-19. 
THE IMPORTANCE OF GETTING YOUR MEDICAL MARIJUANA CARD 
We know that a lot of people simply enjoy smoking cannabis recreationally, but the plant can be immensely beneficial to those who are struggling with a multitude of ailments, and it's essential to have a medical marijuana card on hand so that you can have access to innovative treatment options that can help you improve your health physically and mentally. 
We can provide our patients residing in The Sunshine State with medical marijuana cards. 
There are many reasons you should invest in one. 
1. IT'S LESS RISKY 
A lot of folks these days will try to dodge the law to get their hands on some weed: This is extremely risky and, if you're using cannabis for medicinal purposes, you may not get the correct strain, and you could end up consuming the wrong dosage—every individual's needs are different, and some people find themselves taking way more than they need to.
2. CANNABIS OFFERS A MYRIAD OF HEALTH BENEFITS IF USED CORRECTLY 
Marijuana is truly a phenomenal plant: It can treat a wide variety of conditions ranging from joint pain to dementia. 
If you speak with a professional in the field, you will understand how to use this wonderful treatment option to your benefit, and we can tell you all about every ailment it treats if you're curious, so you can eliminate the guesswork! 
3. MARIJUANA IS A SAFER ALTERNATIVE TO MANY PHARMACEUTICALS 
When it comes to treating most conditions, marijuana has far fewer side effects than many pharmaceuticals do. This is a major selling point for people who have been struggling with PTSD or anxiety and depression and simply want something that isn't quite as hard on their system. 
4. YOU CAN WORK WITH A PROFESSIONAL TO TAILOR A PLAN TO YOUR INDIVIDUAL NEEDS 
The thing about marijuana is that each individual responds to the substance a little differently, so it's immensely important to seek the assistance of an informed healthcare provider in order to understand exactly what works for you! 
5. YOU CAN SUPPORT A RAPIDLY GROWING INDUSTRY THAT PUTS PEOPLE BEFORE PROFITS 
If you are frustrated with the pharmaceutical companies and feel that they too often put profits before people, you are certainly not alone: In fact, many are on the same page. 
On the other end of the spectrum, the vast majority of medical marijuana providers are primarily concerned with the health of our patients: Our goal is to help you decrease your side effects, find comfort in your body if you are in pain, and leave our doors with a strong mind. 
We are not in this solely for the money: We genuinely want to help people! 
When you invest in a medical marijuana company, you are taking your health into your own hands by voting with your dollar: You deserve the best care, and it's important to add your voice to those of many Americans who are disappointed with numerous conventional forms of treatment here in the States. 
While it might be tempting to try and grab some weed from your buddy for free—even if it's illegal!—that method is also incredibly dangerous: It could land you in jail if you're not careful, and you will probably not be able to truly experience every benefit that marijuana can offer. 
Additionally, you might end up smoking too much weed which—contrary to what many believe!—can actually be detrimental to your psyche now and later in life: Cannabis does have side effects, and these are often exacerbated if a person smokes too much of it or chooses a strain that doesn't agree with their system.
We want you to utilize medicinal marijuana the right way so that you can be happy, healthy, comfortable, and safe from harm's way. 
Working with us will also mean that there is simply less risk involved when it comes to getting your needs met! 
Here at MMJ Health, our doctors have extensive training pertaining to the use of medical cannabis: They have educated themselves beyond what was required of them because they strive for excellence every day. 
Where Do I Find Medical Marijuana Doctors Near Me?
Looking for a Medical Marijuana Card in Florida? Head over to MMJ Health today and see if you qualify. Our expert Florida medical marijuanas doctors will help you acquire your Florida medical marijuana card without hassle! See our 9 convenient locations to see a medical marijuana doctor near you today.